An assault on an all female band by a member of security staff at this weekend's Undercover punk festival in Brighton has brought the online mansplainers and slut shamers out of the woodwork.  It also raised some issues that need to be resolved, some feel new, some are as old as punk itself. Can women make a new space in a scene and politicize it from within ?  Is there ever a way to reconcile the punk politics of the past, and the intersectional politics of the present?   Can we actively build a politics where race, gender, age and subcultural identity intersect ?– the answer, it seems to me, to all of these questions is the same; not really, no.
The Tuts played on the first night of the two day festival in Brighton.  I saw the gig, I loved it.  I love the band. I wear their t-shirts, I contributed to the crowd funding for their album.  I have included them in the listening for this year's Post-Punk Britain course. They are a young feminist DIY band with a great stage presence.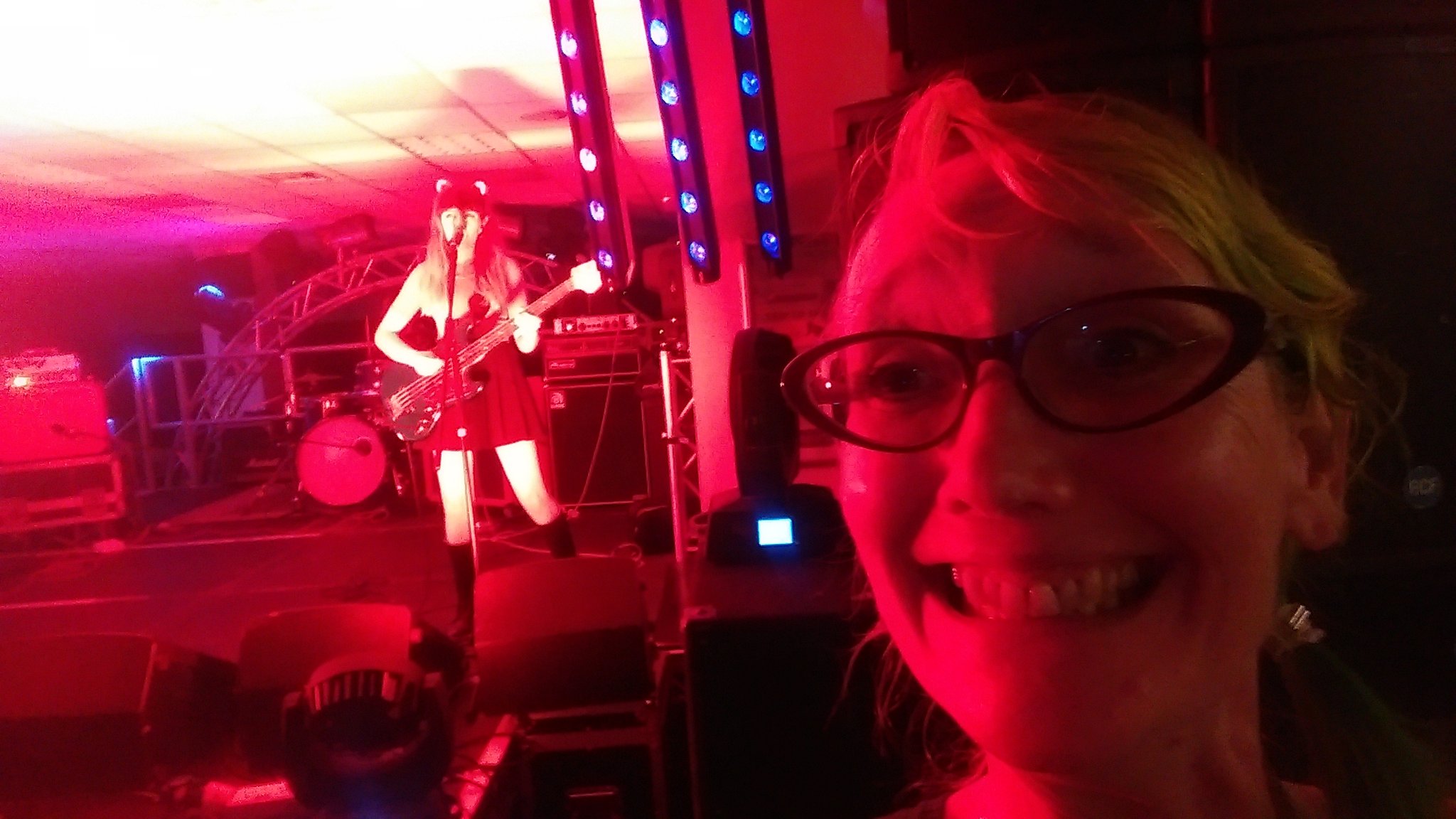 Unsurprisingly for the a punk weekender 40 years on after the Sex Pistols both audiences and performers were predominantly male, predominately white and predominantly considerably older the young women playing in the band.
This is the public statement about their experiences at the venue that the band put out their Facebook page the day after I fangrrrled them at Undercover.
"Last night we were assaulted in Brighton at Undercover fest. On arrival we entered the festival in good spirit and excited to play but immediately we were treated very rudely. Basic requests for a room to get changed (office, or even a cupboard) were laughed at. We were told we were not "prestigious" enough to have such a luxury. Keep in mind it was a small festival with plenty of empty rooms, and we were playing the main stage (not that this should even factor in!). Anyway we didn't let this bad start kill our vibe as we just love playing festivals and were excited to see The Selecter
At the end of The Selecter's set, you may know, we always jump on stage. So we walk to the side stage area to get ready for that. Disclaimer: we had played the same stage just a few hours earlier, we had wristbands and the whole crew knew who we were and we had interacted with all of them a number of times (it was hard to miss The Tuts – the only young people there, in matching outfits, with 2 members of colour). Nadia just STANDS at the side of the stage and waves to the drummer who acknowledges her and encouraging the stage invasion. At this point Nadia hadn't even set foot on the stage yet because it wasn't the right part of the song. Suddenly, a large male crew member who worked at the festival grabbed her body and started to throw her away from the stage yelling aggressively. She was gripped by both arms, it was an unprovoked attack with an unnecessary amount of force used on a small woman. The fracas attracts the attention of Harriet and Beverley who rush over, trying to free her from this violent male. Harriet is grabbed by her back and thrown into the railings. Not only was Nadia 'dragged' away from the stage but this man tackled her with no justification.
Very quickly more security get involved. Instead of listening to what happened in the first place their instinct was to all physically restrain Nadia because she was emotional and completely traumatised by what had just happened. The male security and the festival organiser were very quick to make the situation about them and showing no concern for our well being and safety – It felt like their empathy or concern was being blocked by their egos. The festival organiser Mick Moriarty screamed at us "YOU HAVE 5 MINUTES TO GET OFF MY FESTIVAL". Shortly after, a huge male member of security grips Nadia by the arms followed by two female security who take Nadia off the premises. All we wanted to do was get our equipment and leave but we were left stranded in the car park crying in shock. Shortly after we called the police and reported the whole thing. We are yet to find out the name of the crew member who instigated this physical violence.
No one should have to wake up with bruises down their arms from being manhandled. The problem is WE ARE NOT SAFE AT OUR OWN GIGS. Not just because of the physical violence that crew members or security will VERY quickly resort to. But unless we have a white male as an eye witness, our accounts or experiences will never be listened to or taken seriously in the moment. We've noticed a considerable difference in the way we're treated at gigs depending on whether we bring a male crew member or tour manager with us. Does that mean we have to have a man with us at all times to 'protect' us from other angry men?
As you know, this is not the first time this has happened. The first attack on Nadia in 2012 at the Brixton Windmill fuelled by racism and misogyny. This attack, although it may not be racist (who knows) we have to analyse WHY these older white men (full of rage) so quickly switch to body tackling a 5" 2 woman of colour at her own shows. THINK about that."
The responses to this statement both at the festival the next day and on Facebook since set up one set of privilege, community and authenticity against another.  A series of fissures slashed through the imagined punk rock community, The Tuts were publicly condemned as privileged  by the festival organiser, Mick Moriarty. Band after band announced their solidarity with Moriarty who had been accused of racism and sexism in the aftermath of the events.  Tippy Tappy Facebookers challenged The Tuts' account, blaming them for playing the race and gender card, accusing them of being drunk and out of control, defending Moriarty's politics and laying out his long standing contribution to the community.  In short silly little girls were getting in the way of older men having a great weekend.  It was a great event.  But, there is a horrible irony here, punk festivals like Undercover sell T-shirts saying 'I Love Porno', and printed with jokes about Rose and Fred West and Rolph Harris, but can't manage BME women talking about their experiences.  and can't decide if it's the most punk rock response ever.
When punk was politicized around gender and race it was always from the margins.
The Tuts music takes on sexism in the music industry face on. They will, they warn…. steal your girl fans.
But this is not a simple case of old men defending simple lines of privilege.  To be accused of racism when you have been a life long anti-racist organiser and ally must have been hard to swallow, especially at your own event that you have poured your energy into organising and maintaining.  There is a lack of intergenerational memory for the battle wounds and scars of 4 decades of punk politics. But here's the point .  Was this really the punk rock dream when dancing to Chelsea, Spear of Destiny or The Piranhas first time around? That when those young punks grew up they were going to use their punk rock authenticity to tell younger people off for getting pissed and being pissed off?
If punk is going to be anything more than a nostalgic re-enactment it needs to keep up.  Women are speaking up about the levels of violence against women performers – and are sick of the wasted energy that goes into defending their right to call it out when they do.  This summer's festival season has seen numerous experiences of women being physically assaulted and experiencing of intimidating behaviour at their own gigs, at the Fuk Reddin Festival recently for example.  In the 90s we were so pissed off with keeping our mouths shut about sexual harassment and assaults at gigs (so we didn't wreck the scene), and so pissed off about the level of violence at gigs (so we didn't get in the way) that we gave up and made our own grrrl scene and demanded that the girls took up the space at the front. There are campaigns out there now that are put the politics of violence, and macho intimidation at gigs to the front. The Good Night Out Campaign, for example offers training to security staff and event organisers.
Funnily enough, women are still not happy to be publicly shamed for experiencing violence. The everyday starting point of resisting privilege is the starting point for DIY activists, not a distraction from politics.  This isn't really about what happened back stage at Undercover festival. It is about how people reacted to it when they heard about it, both on Facebook and in the festival space. If you heard that a woman was left bruised and crying by security at a gig and your first thought was that she must have been pissed and privileged then I call you out on that. I call bullshit.
Edit: for those of you who are, understandably, interested in the events themselves, rather than my thoughts about what the responses mean Mick Moriarty has put out a statement. As I said in the original post I'm  wasn't really writing about the events, but thinking about generation gaps and intersections of privilege that the responses exposed. http://undercoverfest.com/statement-in-reply-unfounded-allegations-the-tuts/