Have you ever been on holiday with your students? Its got a lot of awkward potential.
This year Chris Warne and I were awarded an Innovation in Teaching Award to take a group of students to Margate and set up a digital pedagogy experiment. DIT Digital: Doing Subcultures Online involved tours and workshops with two of Margate's significant heritage sites; The Turner Contemporary and Dreamland. Our Twitter hashtag is #DITDreamland
Last year we had run a less ambitious project DIY Digital: Doing Punk Online with students on our Post-Punk Britain module.  Students had created open access educational resources around topics from the module.  One of the key lessons from the project last year had been the importance of 'being in the room' to facilitate virtual interaction so a field trip offered a way of sharing a physical space together whilst doing digital work.  Furthermore last year's MA mentors had been absolutely central to the success of the project and we now had a group of masters students who had been part of the original project as undergraduates who could act as mentors.
We felt that the first project had been really successful, and  that we had learnt some useful lessons from our students.
This time we wanted to take our ideas into the real world.  Though what that is, and what that means, is pretty  awkward.  The relationship between what we do in our research, what we do when we teach and what we do to, or for, the 'real world' is one of the tensions that runs through our lives as academics.  We have a series of stock phrases that set out these awkward inside/outside relationships 'research informed teaching', 'knowledge exchange', 'the impact agenda'.  All of which keep us in our place, as much as connect the elements of our labour together.  I talk to my students about my  research, and sometimes I talk to them about my teaching practice, but I don't think that I ever really talk to them about what it means to be a historian in the knowledge exchange and impact agenda.  So we developed the project explicitly to engage students with 'pathways to impact' through their own work.  We set up collaborations with non-HEI partners who would 'commission' or collaborate on an online educational resource.  The resources were commissioned by  Rebecca Ellis Head of Programming at Dreamland Margate, and inspired by the work of local artist in resident and writer Iain Aitch.
DIT: Digital took all those awkward elements and threw them in the air.  The experience shone light on the faultlines and creative spaces between teaching, research and impact.  In fact the awkwardness became the point.  It turned out that the questions our field trip raised about how we teach, research and connect to the world together are the same questions that communities, heritage workers and artists were already asking in Margate.
How shall we work together, get what we want and not rip each other off?
DIT and DIY Digital can be understood as part of a growing interest in punk pedagogy – punk as a process of democratic teaching practice as much as a subject matter. (Mike Dines has recently published a useful article mapping the field in practical and conceptual terms)  This is being thought about explicitly as an act of resistance within the current University structures, albeit one that is awkwardly aware it has already sold out. In this second project we wanted to  move beyond Doing It Yourself to Doing It Together.  Inspired by the work of Jez Collins and Paul Long we wanted to explore the relationship between the collaborative nature of online social networks and collaborations between historians, heritage experts and communities.  Could open access apps, digital tools and social networking sites help us break down the artificial barriers between different types of historical work and historical thinking?
Work by Collins, Long and Sarah Baker provided us with a framework to understand the importance of 'DIY' archiving in preserving the heritage of local music scenes and for the identity work of subcultural memory.  DIT: Digital was designed to take the lessons from that work and see what academic history can learn from them, and of course break down the barrier between the two in the process. In particular Collins' chapter in Preserving Popular Music on Doing it Together, rather than Yourself was an important development  for the project. Teaching, researching, history work and subcultural identity really are collaborations, you really can't do them on your own.
When the Turner Contemporary first opened there was considerable mistrust from the local community; it replaced a pub with a monolithic block of a building and looks like its landed from space.  But it was meant to make Margate a better place, with concepts like Art Inspiring Change. The way in which that actually played out was pretty awkward too.  Iain Aitch was the perfect person to inspire our project and to help us make sense of the awkward and creative relationships and tensions between art, culture, heritage and regeneration in Margate.  He's not called a 'disruptive consultant' for nothing.   Iain Aitch's grandmother was sure that the new gallery would be washed into the sea. He had worked with both of our heritage case studies, the Turner Contemporary and Dreamland.  He was an insider artist rather than a Down From London incomer.  In fact his granddad was a mechanic who checked the scenic railway at Dreamland. Iain had already had an active role in recording and utilising the history of Margate in the here and now.
Iain created the Dreamland timeline, collected subcultural stories and created an exhibition that literally put Margate's subcultural past at the centre of the Turner Contemporary's opening show. As artist in resident, Iain set up a project designed to deal with the awkward gap between the Turner and the town head on. He brought  Margate's working class creativity into the gallery space, including their subcultural work.  He toured Margate in Kent's Cultural Baton – a silver air stream caravan, collecting people's teenage stories of subculture and collecting old and new photographs. Iain didn't just recognise the people of Margate's creativity, he literally got them into the gallery.  His participants' photos, then and now, were displayed alongside work by Blake, Hockney, Warhol, Emin and Bowie and over ninety other artists as part of the exhibition Nothing in the World but Youth.  Iain made sure that his subculturalists weren't just there to be looked at, they were invited to take over the gallery space.  Iain recreated the pub that had stood on the spot developed into the Turner with music, drinking and dancing to their own subcultural  sounds. He also used their stories to remap Margate's geography using GPS codes.
Iain explained that involvement in the project became a catalyst for the people involved some restarted their own zines, some went on access courses.  Having their own stories collected had made them researchers, troubling the line between who does the research and who is the researched.   Iain's participants didn't really need him to make sense of their lives, just to curate them.  After all as one 'former rocker turned collier and police officer' told him,  "you don't live in the past, your past lives in you".
Dreamland History
Dreamland's head of programming Rebecca Ellis talked us through the history of the Dreamland site, and the role of history in the site today.  Iain's timeline of the site's history shows in detail how Dreamland intersects with the big stories of the twentieth century, so I won't go over it all again. But, the history of Dreamland is the social history of Britain.  Dreamland has been touched by empire, transatlantic aspiration, the impact of the railways, wartime requisition, the glamour of the big screen, post-war affluence, the growth and decline of the seaside town, the rise of European travel, changing ideas of Britishness,  moral panics around youth, unemployment, and regeneration (gentrification).  The history of Dreamland is also the history of the economic and social values ascribed to culture.  After a number of years as a static fair ground, rather than a pay for the whole day amusement park, the property developers seemed like the inevitable last chapter in Dreamland's story, the land destined for a supermarket or high end flats.  Instead, in 2003 the Dreamland Trust launched the "Save Dreamland Campaign" .  Margate and Dreamland were in decline, heritage had come to save the day.  Investing in a new park, selling the old fashioned idea of the past to visitors was going to help build a better future for Margate.   The Trust eventually succeeded in getting a Compulsory Purchase Order on the site.  Two years later in 2012 Wayne Hemingway was appointed to head up the branding and design of the new park and heritage project.  When the park opened in June 2015 it brought together aesthetics of both past and present, of historical work and leisure.
These things that make me feel awkward
Groups dynamics
Generation gaps
Worrying about cramping students' style
Planning for the future, thinking about the past
Experimentation and assessment.
Research and Impact
Collaboration and power differentials
Filling in risk assessments for field trips.
Things that make Chris awkward
Selfies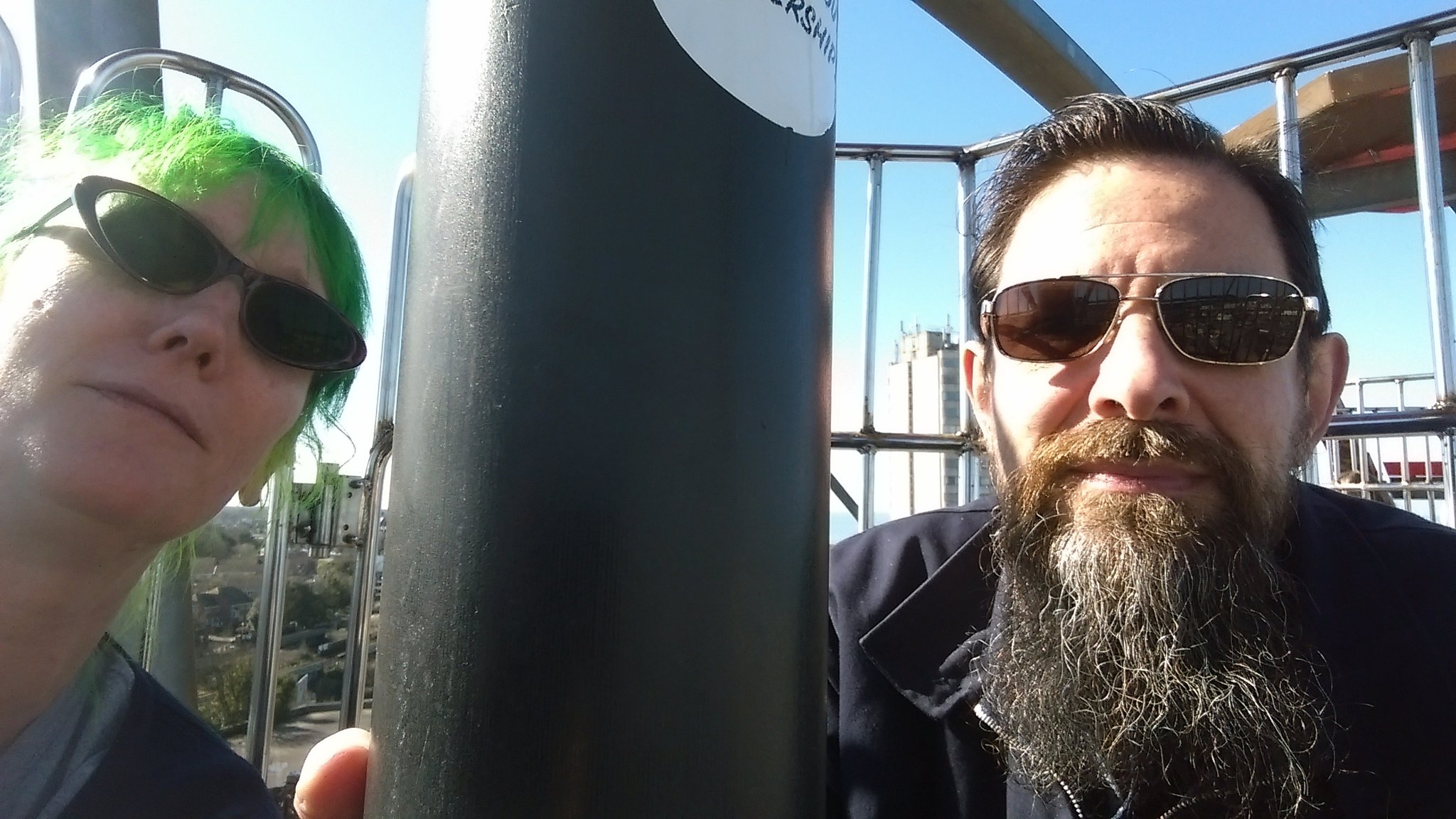 But some awkwardness is more important than others.  And we can learn more from it.
The Awkward Past and Present
Rebecca Ellis helped us to explore how Dreamland's historical intersections with the big stories of the twentieth century  developed into a brand and an aesthetic that bridged the past and the present.  The awkwardness between the past and present is Dreamland's USP with the tagline "old fashioned – yet oh so fashionable".   The idea of 'salvage' encompassed the practical and conceptual work done to bridge the old fashioned past and the fashionable present.   Dreamland is salvaged history.  The new site is filled with reused bits of its past, wood has been reused from the original scenic railway (rollercoaster), tables have been made out of signage. The arcade floor glitters with hundreds of old penny pieces.  The roller disco, the ballroom and park rides for each decade of Dreamland's history have been rebuilt and restored.
The new scenic railway has been 're-awesomed keeping the original structure'.  The Scenic Railway wooden roller coaster opened in 1921, It coincided with a boom in Rollercoaster. 500,000 passengers in the first three months.  They went into decline after the Second World War and the next big boom coincided with Dreamlands rock n roll chic of the late 1950s.   If anything sums up the awkwardness and the attraction of the relationship between the past and the present it is the scenic.  According to, Iain Bell,  founder of the enthusiast group Coaster Force, 'RollerCoasters are timeless'.
It was the scenic railway's timeless but specific status had a particular currency. When Dreamland Trust successfully campaigned for the ride's listed status in March 2002 it was granted on the basis of its social significance rather than its architectural value.  The emotional investment in the roller coaster kept the scenic's special place as the 'queen' and saviour of the park.  An arson attack on the wooden structure in 2008 both knocked and galvanised the Trust's campaign. However, the first summer that the park opened the scenic was not yet in place, leading to some vocal criticisms over value for money.   On our day at Dreamland the scenic was out of service for the most of the day.There is after all, a reason why the light weight steel rollercoasters became so popular in the late 1980s.
Hemingway's aesthetic, the staff's cheeky interactions with customers, the signage and children's entertainment all wield the past in their appeal to an emotional attachment.  The emotional attachment has a claim to inclusivity.  It is designed to bridge those who grew up visiting Dreamland, lived with it in their communities, and those who want to imagine an unexperienced past today. This is a tricky task.  Dreamland takes fun seriously as historical practice. The park mascots perfectly sum up the awkward historical relationships forged in Dreamland.  Teddy and Betty Bear are trans-subcultural, hybrid cross-overs, part 2-tone, part Ted.  They have just come down from London, so they are incomers, but they have been coming to Dreamland for years, so they are part of its history too.  They are 'just like you'
There is an awkwardness in the fact that the very reason Post-punk Britain was interested in Dreamland, was the very reason for its decline.  The old and the young were very much in competition for the old fashioned fun.  Margate's subcultural vibrancy, and the centrality of Dreamland as a stage for those identity performances, was also a factor in its economic decline as a holiday destination. The 60s brought young people with money in their pockets and time to spend it to the seasides of Britain, associated with the mods and rockers, the original  'sawdust Caesar' folk devils.  As multicultural subculturally defined youth tribes became more complex so did the battles for space amongst Dreamlands' rides.  The subcultural tribes' occupation of Dreamland was the deathknell of its family fun. Families wouldn't go there anymore.
Awkward Inside/Outside
As Iain's work shows Margate is a contested space, filled with local tensions, subcultural rivalries, incomers and exclusions. Dreamland is a similarly contested space, where competing agendas, funding streams, expectations and old associations meet.  But Dreamland deals with this head on. Margate has always been a place where people make stuff happen from within and where people come to from the outside.  It has been a place where people drop out or are dumped, whilst others save up their wages for a leisure trip.  Margate has 'never [been] too far from either positive or negative coverage of the seaside'.  Competing expectations come with cultural investment in a city.  Exactly how is cultural production meant to 'trickle down' into community rejuvenation? Margate is marketing a cachet, to use Iain's term, that is both 'cool and grim' and Dreamland is rebuilding an arena that needs to be both old fashioned and future proof. The hipster cafes, retro markets, art centres, gallery and Dreamland itself will bring in new leisure pounds, but as Iain and Rebecca carefully demonstrated that Margate is perfectly capable of producing its own cultural work.
That's not a bad lesson to take home from a holiday.  Students are perfectly capable of Doing It Together Without Me. Funnily enough, the same is true for historians.  There's a lot of history work, identity work and awkward negotiations happening in communities without us.  Maybe we could forget about impacting them or exchanging our knowledge with them and just hang out in a bar with them, listening to their tunes and hearing their stories. If that's not too awkward.